Back to top
Musicians
Mary Bergin
Born in Shankill, County Dublin, to parents Joe and Máire (melodean and fiddle players, respectively), Mary started learning to play the tin whistle at the age of nine. She won the All Ireland tin whistle championship in 1968. Her two virtuosic recordings of solo tin whistle, Feadóga Stáin (1979) and Feadóga Stáin 2 (1993), have been critically cited as "outstanding and unequalled.". Bergin moved to Spiddal, County Galway in the early 1970s and played with many of the up and coming stars of the Irish music scene, notably De Danann and Ceoltóri Laighin. She is currently a member of the group Dordán, who perform Irish traditional music and Baroque music. In addition to releasing two solo albums, which aided the popularisation of modern traditional Irish tin whistle playing, and three albums with Dordán, she has taught hundreds of students, in Ireland, across Europe, and in the United States, to play the whistle.
Floriane Blancke
Hailing from France, Floriane Blancke was raised on her grandfather's hungarian gypsy-music background. She is a talented harpist, fiddler, pianist and vocalist who has been embraced into Irish Traditional Music circles over the past number of years. Floriane has a rich music heritage that combines both Irish and European celtic stylistic elements to define her own unique approach to traditional harping. After moving to Ireland from France to pursue a full-time career in Traditional Music in 2005, Floriane is now recognised as a skilled harpist and has performed with luminaries such as Sharon Shannon, Seamus Begley, Tim Edey, Mary Staunton, Johnny Óg Connelly , Martin Tourish, and Ciaran Tourish.
Dermot Byrne
Dermot Byrne, a native of Donegal, had music from his father, Tómas O Beirn, from the Gaeltacht area of Teileann, and heard all the great Donegal fiddlers, the Dohertys, Cassidys, and Byrnes from his infancy. With this start, Dermot was a renowned accordion player before he reached his teens, he has played and recorded with many great musicians including Seamus and Manus McGuire, Frankie Gavin and Pierre Schryer, and he also has his own solo recording. Dermot guested on two Altan albums, "The Red Crow" and "Island Angel" before joining the band in 1994.
Pádraic Keane
Uilleann piper Pádraic Keane hails from Maree, Co. Galway and was born into a great musical family in 1991. His father Tommy is a well known piper, originally from Waterford who was taught by the legendary piper Tommy Kearney. His mother Jacqueline McCarthy is a very respected concertina player and is the daughter of the late Tommy McCarthy from West Clare who was a multi-instrumentalist playing pipes, whistle and concertina. Jacqueline's sister Marion also plays pipes. It is little wonder therefore, considering the love and prevalence of piping on both sides of the family, that Pádraic began learning the pipes at the age of eight under the guidance of his father. He also received tuition from many leading pipers at various summer schools including Robbie Hannan, Mick O'Brien, Emmett Gill, Jimmy O'Brien Moran, Seán McKeon, Brian McNamara and Ronan Browne. His first pipes were a practice set borrowed from Na Píobairí Uilleann. Since then Pádraic has inherited his grandfather's pipes – a concert pitch set made by Leo Rowsome. When playing solo he likes to perform on a flat set in C made by Geoff Wooff. He has performed at many events organised by Na Píobairí Uilleann, including recitals at Scoil Samhraidh Willie Clancy, NPU Annual Tionóls, Session with the Pipers in The Cobblestone and Ceol sa Chlub, the latter in the company of his fiddle playing sisters – Siobhán and his twin Maisie-Kate. His music has been broadcast on Clare FM, Galway Bay FM, Raidió na Gaeltachta and RTÉ Radio & Television. Pádraic's piping comes from the style of Willie Clancy but other influences such as Seán McKiernan and Séamus Ennis are also discernable in his music. He in turn is now passing on his love for piping and has a number of fledgling pipers coming to him for tuition. In 2011 he was awarded Gradam Ceoil TG4 – Ceoltóir Óg na Bliana (TG4 Music Award – Young Musician of the Year).
Noriana Kennedy
Noriana Kennedy has been an in-demand folk singer and musician in Galway for over five years, and is beginning to generate a buzz nationally with her debut album Ebb 'N'Flow. Her musical career began in 2005 as lead singer of Irish contemporary trad band Nábac. The five-piece performed regularly in Ireland's well known folk venues and at music festivals such as the Electric Picnic and The Galway Volvo Ocean Race Festival. Their spirited performances saw them tour in Austria, Germany, Italy, Sweden and Denmark. Noriana Kennedy is one of the prominent voices in the West's burgeoning American folk scene. In 2006 Noriana she travelled to Virginia and recorded an E.P with Irish/U.S band Sawyer Hollow. It was here she found her love for oldtime/ bluegrass, and began to explore the connections between the Irish and Appalachian traditions. With Sawyer Hollow she went on to perform in the Kennedy Centre in Washington D.C and the Blueridge Bluegrass Festival.
Conor McCague
Conor Mc Cague is a native of Scotstown village in Monaghan where he first attended music lessons at the age of five. A number of local families were teaching music in the area at the time and it is thanks, mainly, to the Rooney family and Liam Treanor (his first banjo teacher, at the age of eight) that he received his introduction to music. Although he played at various fleadhanna and local events it wasn't until he moved to Galway to study in UCG that he was to experience a vast number of established musicians in session and concerts on a regular basis. This was all thanks to his brothers Sean and Michael already knowing where the music was happening and introduced him to the session scene in the city. Since then he has become a regular in the session circuit where is to be heard playing with Ronan O'Flaherty, Johnny McDonagh and many other local and visiting musicians. Conor has also recorded for various radio and television programmes including Geantraí and the Fleadh Programme. Still playing in the Galway area and in Tigh Ned, Inis Oírr every summer he has since completed the Masters in Traditional Irish Music Performance (UL) and qualified as a primary school teacher (MIC). During his course in UL He was afforded the opportunity of one-on-one tutorage from people like Brian McGrath and John Carty; two of the main influences on his banjo playing. In recent years he has played at and taught at many festivals/summer schools around the country.
The Mulcahy Family
Musical families are often the backbone of multi-generational continuity within that global community, and no musical family today is more impressive in upholding the best principles of the tradition than the Mulcahys of Abbeyfeale, West Limerick. Mick, Michelle and Louise Mulcahy play a dazzling array of instruments between them but it's the sweetness and tunefulness of their ensemble playing that is most striking. Their latest album 'Reelin' in Tradition' has received worldwide acclaim, an album full of soulful traditional music rooted in the West Limerick, Sliabh Luachra and Clare tradition. Mick Mulcahy is a living legend in Irish accordion playing, with a rare repertoire of old tunes which he plays in a highly distinctive style, a style of personal touch which distinguishes the work of the true traditional musician, a touch which has been passed down to his two daughters Michelle and Louise.
"If you like the 'pure drop', here it is – traditional Irish music at its natural, unadulterated and most seductive best"- The Irish Times
Lorraine O'Brien
is from Toonagh in County Clare. She began concertina at a very young age, learning at her local primary school under the guidance of acclaimed music teacher Frank Custy. From there Lorraine took lessons with Dymphna O' Sullivan and later from Noel Hill. She was also very influenced by Terry Bingham and Clare concertina players Kitty Hayes and John Kelly. Lorraine is a qualified Music Therapist and a member of the Irish Association of Creative Arts Therapists (IACAT). She works in a school with pupils with moderate or severe/profound general leraning disabilities and pupils on the autistic spectrum. She also works part-time in the University of Limerick giving tutorials & lectures to the students on the music therapy course. Lorraine holds a BA Music qualification from Trinity College, Dublin. Lorraine teaches concertina in Ennis and is a teacher at the annual Willie Clancy festival in Miltown Malbay, Co. Clare.
Anders Trabjerg
Anders is from the little town Hee on the west coast of Denmark. He started playing the accordion at the age of 7. It was in his mid teens when he became interested in Irish traditional music. In 1996, he moved to Galway and has now for more than a decade been on the local music scene. In 2001, he recorded his solo album 'Boxed' for which he received Roots Release of the Year at the Danish music award. In 2004, 'McBones and the B Band' and 'For the Same Reason' were released. It was the same year the Danish TV DR1 came to Galway and made the documentary about Anders' life in Ireland in titled 'Irish Heart, Danish Blood.' In 2008, Anders and his fellow Dane, Jonas Fromseier released the album 'The Great Danes in Ireland.' He is currently playing regularly around Galway as well as doing duo concert with fiddler, Mayo Yanachi featuring Irish, Gypsy and Scandinavian music. He is also a member of the band 'Café Minor.'
Dan Gurney
23-year-old Dan Gurney, born in upstate New York to artist parents, first picked up an accordion by chance in a toy store. He learned his music from Galway-born concertina player Father Charlie Coen. Over the years he has also been heavily influenced by Billy McComiskey, John Whelan, Joe Derrane, and John Nolan, among many others. After graduating from Harvard University in 2009, he lived in Galway for a year playing with the likes of Dolores Keane, Johnny Ringo McDonagh, Mick Conneely, Ronan O'Flaherty, and Brian McGrath. He has appeared on Public Radio International, at the International Accordion Festival, and has won nine medals at various Fleadh Cheoil music competitions. Now he runs the live streaming concert website Concert Window (www.concertwindow.com).
Cormac Cannon
Cormac Cannon began learning the whistle from Mary Bergin at an early age. He took up the pipes some years later, learning initially from Tommy Keane and later from other prominent players during regular visits to the Willie Clancy summer school. He has a keen interest in the music of the older pipers and fiddle players, particularly the music of Clare and Kerry, and a preference for the sound of the flat-pitched pipes. He has toured and taught in Ireland, Japan, Africa, the USA and throughout Europe — in short, anywhere that would have him. His recorded output includes tracks on The Cobblestone Sessions (Mulligan 2002), Rogha Scoil Samhradh Willie Clancy 2008, a series of albums recorded by his mother, harpist Kathleen Loughnane and a forthcoming collaboration with Lamond Gillespie and John Blake. He was recently approached by Na Píobairí Uilleann to make a solo recording on their label. Since then, he has been spending his days cowering in darkness and avoiding phone-calls from the NPU.
Kathleen Loughnane
Irish music meteor award (2010) nominee, Kathleen Loughnane is highly regarded for her work in arranging traditional Irish dance tunes and airs for the harp and also for researching the music of Irish harp composers of the 17th and 18th centuries. In 1990 she co-founded Dordan, whose mix of Irish and Baroque music has received wide acclaim. Dordan received the National Entertainment award for traditional music in 1993.Kathleen has 4 cds and accompanying books to her credit, Affairs of the Harp, Harping On, Harp to heart and most recent The Harpers Connellan She has taught in Ireland and at major festivals in the US, Japan and through out Europe. She was invited to play at the World Harp Congress in Dublin in 1995. Her arrangements have appeared in various publications and feature on the Harp Syllabus of The Royal Irish Acadamy of Music
Bryan O'Leary
Bryan lives in the townland of Tureencahill in the parish of Gneeveguilla. He started playing the accordion at the age of 11, shortly after his grandfather, Johnny O'Leary, passed away. He started off playing on the accordion learning from the great Nicky McAuliffe, the multi-instrumentalist from Castleisland, Co. Kerry and recieved tuition from Nicky for at least six years. As he progressed on the accordion, he began learning his grandfather's music by ear and researching his music and old recordings which greatly improved my repertoire of Sliabh Luachra music. He was also influenced greatly by the legendary accordion player Jimmy Doyle from Maulykaevane, Gneeveguilla along with his two music partners Joe O'Sullivan (flute) and Paudie Gleeson (fiddle) as well as other Kerry accordion players such as Paudie O'Connor, Brenden Begley, John Brosnan, Danny O'Mahony and his friend, the late, Stephen Carroll. He has a keen interest in the local Sliabh Luachra style of playing and especially in the music of my late Grandfather,and other Sliabh Luachra greats such as Denis Murphy, Julia Clifford and Padraig O'Keeffe. He has played at the Button Factory, Dublin and has recently travelled to Sweden with the group Ceoiltoiri Sliabh Luachra, from Rockchapel, Co.Cork. He plays regularly in the 'Grand' bar in Killarney and always attend festivals such as the 'Willie Clancy' summer school and the local "Patrick O'Keeffe' music weekend' in Castleisland.
Eithne Ní Chatháin
Eithne Ní Chatháin's beautiful voice and captivating singing bring a transcendent quality to her performances.  Steeped and deeply rooted in traditional music, sean-nós song and the Irish language, she embraces this heritage while simultaneously branching out to explore & enrich it in fresh, contemporary ways. Her assured fiddle playing and original songs dovetail with a natural grace and lightness of presence to nurture an audience with sounds of deep emotion and rare beauty.
Carmel Gunning
Carmel Gunning T.T.C.T, comes from a musical family from Geevagh, South Sligo, and is one of Ireland's most accomplished traditional irish musicians and also a fine singer. She has travelled to many festivals in Ireland and abroad teaching and performing in the Sligo style which includes original variations and ornamentation. She has produced five solo CDs and two books on irish music and song and is very popular on radio stations around the world. She is the Artistic Director of a summer school festival held annually every August in Sligo town and students from all over the world have attended classes there. Many of her students are top class in their profession the most famous of those being fluteplayer Liam Kelly of Dervish. She is a composer of music and song and some of her work has been recorded by irish artists.
Seosaimhín Ní Bheaglaoich
Seosaimhín Ní Bheaglaoich is a traditional singer from Corca Dhuibhne, Gaeltacht area in west Kerry. Lecturers in Amhránaíocht ( traditional singing) in Conservatory of Music, D.I.T. Dublin. Singer in residence at annual Harp Festival Cáirde na Cruite. Has travelled widely and has special interest in Scots Gaelic and Welsh traditional songs. Has many recording solo and ensemble.
Eoin Ó Beaglaoich
Eoin Ó Beaglaoich comes from a well-known West Kerry musical family. He started playing the concertina at a young age and learnt most of his early music from playing in sessions and from his father, accordion player and singer Seamus Begley. He began getting lessons at an young age and was influenced by his cousin Aogán Lynch and from the playing of Noel Hill. Accordion music is very strong in the region in which he grew up and this was a major influence on him until he later took up this instument himself. He is a member of the Béal Tuinne music group and also is in quartet with composer Sean Davey, singer Rita Connelly and guitar player Gerry Byrne. He is currently based in Dublin where he is an active member of the traditional music scene.
Deirdre Granville
A talented harpist, hailing from Dingle, Co. Kerry Deirdre is also an accomplished flautist and violinist. A first class honours Music graduate (UCC), Deirdre has performed extensively throughout the UK, Europe, America and Australia and now teaches in Cork. She was a founding member of the Triantán harp ensemble and continues to perform and tour with a variety of ensembles including new folk ensemble Deluce's Patent who's debut album will be released in September. She currently teaches at second level and director of the new Dingle Trad/Fusion Festival which will be held in Dingle in September.
Aoife Granville
Aoife has been playing both classical and traditional music since the age of 7. While in her teens she performed and toured with Kerry Chamber Orchestra, Dublin Youth Orchestra and Ceol Chiarraí amongst others. She went on to study Music in UCC where she was a member of the group Fiddlesticks. Aoife was awarded a Bene Merenti from UCC for her contribution to traditional music and has won numerous prizes at Oireachtas and Fleadhanna Cheoil, including the prestigious Senior Flute title in 2003. She is currently a partime lecturer and traditional flute tutor in UCC's Music Department and is completing a PhD in Ethnomusicology. Aoife released her debut album, Sráid Eoin Shuffle, in 2006.
Jackie Small
Jackie Small plays uilleann pipes and accordion, and has had a many-faceted career in Irish traditional music. Archivist, music collector, editor, broadcaster and ethnomusicologist, Jackie was born of Irish-speaking parents on the outskirts of Galway city, and was initiated into traditional music in Galway during his student years at University College Galway. He later received tuition on the uilleann pipes at Na Píobairí Uilleann in Dublin, and subsequently collaborated with his teacher, Pat Mitchell, in editing for publication the music of the historic piper Patsy Touhey. Jackie worked closely with the great traditional music scholar Breandán Breathnach, and after Breathnach's death he edited for publication two further volumes in Breathnach's definitive series 'Ceol Rince na hÉireann'. Jackie has also been involved in many other publications in the area of Irish traditional music. As an archivist and music collector Jackie has worked for the Department of Irish Folklore (now the National Folklore Collection) at University College Dublin. His broadcasting work has been for traditional music programming on RTÉ Radio 1. His postgraduate degree in ethnomusicology is from the University of Limerick. Jackie is currently on the staff of the Irish Traditional Music Archive (www.itma.ie), where most recently he has been involved with the publication 'The Westmeath Hunt', a reissue of the historic recordings of concertina player William Mullaly.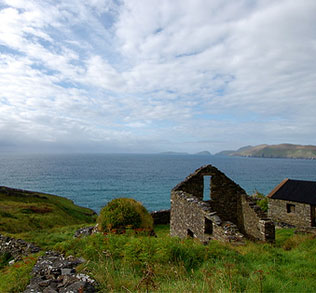 Méabh Begley
Singer and accordion player Méabh Begley comes from the Gaeltacht area west of Dingle in Co. Kerry. Having grown up in a musical family, Méabh was hugely influenced by her father, aunts and uncles. She currently lives in Dingle, gigging and teaching music and has taught at festivals, including at the Tocane Irish music festival in France. Méabh recently appeared on the TG4 programme 'Lorg Lunny', as a singer. Méabh also lectured Irish Music for a term in the American International College in Dingle. She can be heard singing on many tracks on her father Seamus' albums. Méabh has sung in concert with Micheál ó Súilleabháin at Féile na Bealtaine. She has recorded 7 songs for the Children's Christmas album "Amhrán is Fiche Don Nollaig", alongside Máiréad Ní Mhaonaigh and Síle Denvir.
Alan Colfer
Originally from Waterford City, Alan Colfer is a graduate of the Irish World Academy of Music and Dance at the University of Limerick, where he now works as principal guitar tutor. He has played extensively throughout Ireland and Europe, and his repertoire draws influence from music the world over.
Colm Guilfoyle
Colm is a flute and and tin-whistle player from Kilcummin, Co. Kerry. Colm began to learn the tin-whistle at the early age of 6, under the guidance of renowned musicians Padraig Buckley and Nicky McAuliffe. Living in the heart of Sliabh Luachra, which is home to some of Irelands most widely renowned musicians, has had considerable influence on Colm's music. Colm's style of flute playing is derived from the combination of Sliabh Luachra influences, such as John Brosnan and Paddy Cronin, and what he has learnt from classes and workshops under tutors such as Padraig Buckley, Marcus O Murchu and Michael Tubridy. Colm is a resident teacher at the Killarney School of music and regularly teaches at work-shops including the "Scoil Fonn" Slide and Polka workshop, on behalf of Comhaltas Ceolteori Eireann, and Flute/Tin-Whistle workshops at the widely renowned "The Gathering" festival. Colm has featured on various radio and televison programmes for TG4 and RTE including Geantrai, Feilte and the Fleadh Cheoil series. Colm is currently part of the Spraoi Chiarrai team who perform regularly throughout the summer.
Breda Keville
Breda grew up on the shores of Lough Corrib in Claran, near Headford , Co. Galway. She attended whistle lessons with Mary Bergin from the age of 7 and began learning the fiddle at school shortly afterwards. She got a new fiddle for her 13th birthday and soon became hooked! Being the youngest of 6, Breda was very much influenced by what her older siblings were listening to. Her musical influences come predominantly from older players ranging from Bobby Casey, Sarah & Rita Keane, Paddy Fahey, Paddy Canny, Joe Ryan, Patrick Kelly to Willie Clancy and Felix Doran, to name but a few. She gives workshops regularly, both in Ireland and abroad, and also teaches in Galway on an individual basis. She released her solo CD, 'The Hop Down,' in July 2006. Though predominantly unaccompanied, the recording also features her sister Claire on fiddle and concertina, Liam Lewis on fiddle and Terence O' Reilly on guitar. While reviewing the album in the Journal of Music in Ireland (JMI), Dermot McLaughlin wrote that: "A recording like this is a cause for optimism at a time when so many accents and points of difference are being smoothed out of traditional music in studio recordings and elsewhere. This hop down is really a big step up!"
Jack Talty
Jack Talty is a concertina and piano player from Lissycasey in west Clare. A multi-award-winning music graduate of University College Cork, Jack graduated with a Masters Degree in Music Technology from the Centre for Computational Musicology and Computer Music at the University of Limerick in 2009. The rich west Clare music tradition has had a great influence on Jack's music, particularly the music of Bobby Casey, Willie Clancy and John Kelly. Such influences have also inspired Jack's approaches to working in contexts outside of traditional music. As a composer and arranger, Jack combines his background in Irish traditional music with elements of minimalism, electro-acoustic and electronic music. A regular performer and tutor at music festivals and workshops around the world, Jack has performed extensively throughout Europe, the United States and Australia. Jack spends his time performing, teaching, composing, arranging, recording and producing music and is actively involved in a number of ensembles and musical groupings with many exciting projects due for release in 2011.
Dermy Diamond
Dermy comes from Belfast, and learned his early music from local players in Belfast, Antrim and Down, such as Andy Dickson and Gerry McCartney. Later, he and Tara travelled extensively across Ireland, playing and spending time with musicians from many parts of the country, particularly Clare, Cork, Kerry, Donegal and Fermanagh. He was a participant in three Music Network tours, with, amongst others, Dolores Keane, John Faulkner, Paddy Keenan, Maighréad Ní Dhomhnaill, Fintan Vallely, Con Fada Ó Drisceoil and Charlie Harris. He teaches fiddle at the Willie Clancy Summer School along with Bernadette McCarthy.
Danny Diamond
Danny is a fiddler, music archivist and photographer from Dublin. The main influences on his music growing up were his family, Dublin fiddler Paul O'Shaughnessy, and the fiddle tradition of Co. Donegal. In recent years Danny has played extensively in Europe as a member of the band Mórga, with whom he released his debut album in 2009. He works as Field Recordings Officer in the Irish Traditional Music Archive in Dublin (www.itma.ie/), recording traditional musicians in studio and at events around the country, and cataloguing the Archive's field recording collections. His photography can be seen at www.dannydiamond.ie.
Tara Diamond
Tara comes from Co. Down and learned her early music from her father Leslie Bingham, also a flute player. Tara was influenced by musicians such as Paddy Tyrell from Dundalk (flute and sax), Cathal McConnell (flute) and Tom McHale (whistle). She is one of a group of accomplished flute players who emerged from the greater Belfast area in the late 1970's, and is renowned for the tone and smoothness of her playing. She can be heard on the CD Seanchairde (see www.3scones.com) along with her husband Dermy (fiddle) and Daithi Sproule (guitar). Tara has guested on a number of albums and teaches annually at the Frankie Kennedy Winter School and the Willie Clancy Summer School. She has also conducted workshops in France, Germany, Denmark, USA and Japan.
Helen Diamond
Helen began singing and playing the fiddle at an early age and has continued to do so, performing in Europe, the USA and Ireland. Her musical style has been influenced by such musicians as James Byrne, Danny Meehan and Ronan Galvin, and by singers Róisín White, Cathal McConnell, Gabriel McArdle and Antaine Ó Faracháin. Helen also has a strong interest in the English singing tradition, in particular the early music of Martin Carthy, the Watersons and Copper Family. She is currently completing a degree in English Literature in Trinity College Dublin, where she sings with the Chapel Choir.
Brian Mc Grath
Brian Mc Grath comes from Brookeborough, Co Fermanagh, in Northern Ireland - an area steeped in traditional music. Although his parents did not play music, they owned a pub that featured local and visiting players on a regular basis. This is where he first heard the music. He started playing piano at age five and later progressed to the accordian and then banjo and mandolin. As Brian got older, he started going to fleadhs and won many All-Ireland titles on these instruments. Brian's first work in the professional field was with the group Dervish as banjo and mandolinist. He then joined Four Men And A Dog and played on the award winning album Barking Mad, featuring again on banjo and mandolin. He then moved his career on with some accompaniment work with Noel Hill, Paul Brock, Frankie Gavin, to name but a few, before joining the Sean Keane Band as pianist. After seven successfull years with Sean, Brian joined the super group De Dannan where he stayed till the band eventually broke up in 2003. Brian now plays with the Band At The Racket, and is a very much sought after session musician on piano, banjo and mandolin. Brian Mc Grath has toured extensively the world over, and has played with all the biggest names in the traditional Irish music industry including – Frankie Gavin, Noel Hill, John Carty, Matt Molloy,Paul Brock, Charlie Lennon, Joe Burke, Sean Maguire, Brian Rooney, Cathal Hayden, Joe Derrane, Arty Mc Glynn, Alec Finn, alan Kelly, Dolores Keane, Steve Cooney, Eleanor Shanley, to name but a few, as well as doing extensive TV and Media work and has played on over 120 albums to date.
Brian Mullen
Brian Mullen is a native of Derry city and has been singing traditional songs for more than 40 years. Like many others in the 60s he fell under the spell of the American, British and Irish folk revival and made his way from there back to his Ulster roots. He met, became friends with and learned from some of the great singers of Ulster like Eddie Butcher, Joe Holmes, Geordie Hanna and Nellie Ní Dhomhnaill. Brian presents a regular music programme, "Caschlár", on BBC Radio Ulster, and, from time to time, has presented on RTÉ Radio 1 and Raidió na Gaeltachta.
Claire Keville
Musician, music teacher and broadcaster originally from Claran, near Headford in Co. Galway. She won the Oireachtas as a teenager and later studied music at U.C.C where she obtained a distinction in performance playing both classical and traditional music. In 1999 she read for a Masters in Ethnomusicology at U. L. Since 1999 she has presented a two hour weekly programme on Clare fm called Music in the Glen. The programme is very traditional in focus with a strong adherence to the rich musical heritage of Co. Clare/Galway and also comprises of indepth interviews with highly regarded stalwarts of the tradition. Has performed on TV many times, most notably in Dec 2007 where she presented and played concertina on Geantraí. She has also appeared as a guest on Sé mo Laoch and The Miltown Sessions. Teaches each year at the Willie Clancy Summer School and frequently gives workshops at home and abroad. Recorded a CD with fiddle player John Weir and harpist Eithne Ní Dhonaile entitled An T rí is a Rian, 2004 (which included one of her own compositions – a hornpipe Tom's Delight; played piano, keyboards and concertina on Jerry Lynch's CD The Dimming of the Day; guested on Breda Keville's fiddle and singing CD The Hop Down in 2006 playing fiddle and concertina. In 2009 she released a solo recording entitled The Daisy Field playing both concertina and harpsichord with guest musicians comprising of Liam Lewis and her sister Breda Keville on fiddles, Geraldine Cotter on piano and Terence O'Reilly on guitar. This CD features a no. of Paddy Fahey compositions but also tunes by other Galway composers such as Tommy Coen and Paddy Kelly. She currently resides in Galway.
Alan Kelly
One of Ireland's most accomplished musicians in any genre, Alan Kelly is piano accordionist, composer and arranger utterly at home in his own skin. Born into the rich musical landscape of Roscommon in 1972, Alan began playing whistle at the age of 5, before moving onto fiddle, piano and accordion 4 years later. Determined to become a full time musician Alan moved to Galway, where he quickly became part of the thriving traditional music scene, forging an excellent reputation for himself. His critically acclaimed 1997 debut album 'Out of the Blue' exploded onto the traditional scene with such impact that he is generally credited with 'making the piano accordion hip again'. During this time he also recorded and toured with Mancunian Michael McGoldrick on his groundbreaking albums 'Morning Rory' 1996 and 'Fused' 1999. Also in 1999 Alan toured with Music Network's 'Best of Irish' nationwide tour performing alongside such heavyweights as Cathal Hayden, Karan Casey and Michael McGoldrick. A genuine musician, Alan's playful, experimental approach to music has been described as magical, joyous and uplifting … always performed with flair and taste. His live show has been described by the Irish Times as "a brilliantly talented, effortless and exuberant performance". Alan doesn't just play the accordion, he celebrates it in a way that draws you into the passion he puts into the music he plays.
Mary McPartlan
Mary McPartlan is one of the most talented singers to come out of the Irish scene in recent years. Born in Drumkeeran, Co. Leitrim and now living in Galway, she started singing in the early 70s but it wasn't until 2003 that she decided to make music her full time career. She has been working for the last 12 years in the arts and entertainment industry, having been producer and director of many music and theatre projects. She developed the concept of the TG4 National Traditional Music Awards, and was co-producer of the award-winning music series FLOSC, also for TG4. She is founding member and the producer of the Galway-based theatre company Skehana. Mary, however, didn't come out of the shadows until January 2004 when she released the critically-acclaimed album The Holland Handkerchief. The release of her new single Rainy Night in Soho on July 15 2004 coincided with the launch of her new website www.marymcpartlan.com.
Tony O'Connell
ony O'Connell from West Limerick is an agile concertina player who gracefully marries virtuosity with fervour. He recorded with Leitrim fiddle player Andy Morrow and Arty McGlynn in 2005. Their album Tocam was very successful and greatly acclaimed in Ireland and internationally. Three years later he teamed up with the legendary fiddle player Ben Lennon. Their combined recording Rossinver Braes is a great example of Tony's perceptive musicianship and competence in the field of traditional Irish music.
Saileog Ní Cheannabháin
Saileog Ní Cheannabháin is a native Irish speaker. Her sean-nós singing style is mainly influenced by singers from Iorras Aithneach in the Connemara Gaeltacht. Having graduated with a BMus (2009), University College Cork awarded her the Seán Ó Riada Prize, for a study of the Songs and Singers of Iorras Aithneach. She also plays traditional music on fiddle and piano, and classical music on piano. She has sung and played at various festivals, including Féile Joe Éiniú, Scoil Geimhreadh Merriman, Cooley-Collins Festival and Scoil Samhradh Willie Clancy.
Ciaran O Donghaile
Rugadh agus tógadh Ciarán i nDoire. Thosaigh sé ag seinm an fliúit ag aois a 15 i ranganna Chomhaltas Cheoltóirí Éireann agus tar éis cúpla bliain thosaigh ag foghlaim na píobaí uilleann. Chaith sé dhá bhliain ag stáidir ceol ar an Fhál Charrach i dTír Chonnaill roimh theacht go Gaillimh áit a bhfuil sé bunaithe le 8 mbliain anuas ag seinm le grúpaí 'Nábac' agus 'Alalé', & ag seinm sna séisiúin áitiúla. Ciarán was born and bred in Derry. He started playing the flute at the age of 15 at the local Comhaltas branch and later started learning the uilleann pipes. He spent two years studying music in Fál Carrach,in the Gaeltacht area of Donegal, before moving to Galway where he is based for the past 8 years. He has toured with folk bands 'Nábac' and 'Alalé' and plays regularly in the local seisiún scene.
Desi Wilkinson
Desi is one of the leading exponents of the traditional Irish flute ("the timber flute") and a fine singer, to boot. Originally from Belfast, he was inspired to get involved in Irish music through the playing of Fermanagh fiddler, Tom Gunn, a near neighbour. It was from Tom that he learned his first tunes. His first solo album, THE THREE-PIECE FLUTE (Spring Records), received rapturous reviews. "..A dazzling display of virtuosity and quirky genius.." (-IN DUBLIN ). Desi has worked and toured with most of the best-known musicians and groups on the traditional Irish music scene, like Dé Dannan, Donal Lunney, Liam O'Flynn, Máirtín O' Connor and Andy Irvine. He has toured the U.S.A. as guest star with Dé Dannan and has arranged and performed music for the theatre. (He even did a bit of acting in the Eden Court Theatre Company of Inverness' production of THE BRAHAN SEER) From 1992 - 1994 he lived in Britanny, learning, playing and studying Breton music. Desi speaks French fluently.
Malachy Bourke
Malachy Bourke was raised in Galway and grew up surrounded by some of the best musicians in Ireland. He was taught fiddle from a young age by the brilliant Frankie Gavin. He has been working full time as a musician since he moved to Dublin in the mid nineties and has travelled Europe and the USA with various groups and companies, including, Jury's rish caberet, Rubato ballet, the Irish pure drops and Sesions from the hearth . Malachy also collaborated on several recording projects and has released two CD's, "Draw the Bow" a solo production and "Bourke and Dwyer" a duet with Dublin uilleann piper Donnacha Dwyer. Most recently he peformed with the Galway arts festival production of the play "Trad" by Mark Dogherty, in London and the Perth arts festival, Australia where it was extremely well recieved. Last summer he completed a masters degree in Irish traditional music performance and recieved first class honours. Malachy is looking forward to returning to St Nicholas's cathedral,truely one the most beautiful churches and venues in Ireland.
Maeve Donnelly
Maeve Donnelly grew up in East Galway, an area steeped in traditional music. She started playing fiddle at the age of six and won her first All-Ireland Fiddle Competition at the age of nine. In 1976, she was the youngest of 25 musicians invited from Ireland to perform at the Bicentennial Festival of American Folklife in Washington, D.C. She was a member of the group Moving Cloud. In 2004, Maeve recorded a duet album with Peadar O'Loughlin entitled " The Thing Itself". In more recent years, she has released two solo albums.. Her latest album, 'Flame on the Banks' was recorded with guitarist Tony McManus. She has toured with Tony in America and Canada.
Lillis Ó Laoire
Lillis Ó Laoire is a native of Donegal and an award winning representative of that regional tradition. He performs frequently at home and abroad and has a particular interest in the songs of Tory Island, of the Donegal coast.
Verena Commins and Julie Langan
"Out of the heady session atmosphere of a past Scoil Samhraidh Willie Clancy in Miltown Malbay, Clare, emerged this fortuitous partnership. Button accordionist Verena Commins and fiddler Julie Langan have graced Galway City's session scene for some time now, and the musical communication between the two, honed through regular playing together, translates into studio performances of breathtaking tightness and deliciously sly invention". This is how Earle Hitchner described the duo's highly acclaimed CD Fonnchaoi when he was compiling his favourite Top 20 trad releases for the Irish Echo in 2000. After a hiatus of a number of years, the girls are joined by their old friend and collaborator, virtuoso guitarist and bouzouki player, Pádraig Ó Broin. All three are of Mayo origin; Padraig is a Castlebar man, Julie is from outside Newport and both Verena's parents are from Mayo. Playing music that, according to Fintan Vallely, provides "an antidote to adrenaline rushes" these three musicians delight audiences everywhere.
Máire Ni Choilm
Máire hails from Gaoth Dobhair in the Donegal Gaeltacht. She grew up with Irish being her first language. Her singing was influenced by a teacher she had in school, Nellie Bn. Nic Giollla Bhríde and then a woman named Annie John Gallagher became her mentor. Máire loves the songs from Tory Island and Ranafast. We are very lucky to have Máire living in Sligo for the past three years and teaching in Gaelscoil Chnoc na Ré. She teaches singing classes after school and has given workshops in Glasgow, Isle of Lewis, 'Ceol sa Ghleann', Gleann Cholm Cille, 'Éigse Joe Éinniú' Carna and at other various festivals. She has won Comórtas Sean-nós na mBan at the Oireachtas in Belfast in 1997, the All-Ireland Fleadh in 2006 and the Pan-Celtic Traditional Singing Competition earlier this year.
Geraldine McNamara and Noel O'Grady
Geraldine McNamara and Noel O'Grady live near Westport in Co Mayo. Noel is a well known bouzouki player and was a member of the group Beginish and also The Good Mixer Band. He has also featured on a number of recordings with other artists. Geraldine is originally from near Tulla in Co Clare, an area rich in music. She has been influenced by the music of her native county and also by the flute playing of the Sligo, Leitrim and Roscommon areas. She teaches music in and around Westport and at festivals. Both Geraldine and Noel play regularly at sessions and festivals.